Periodontal Care Spokane Valley WA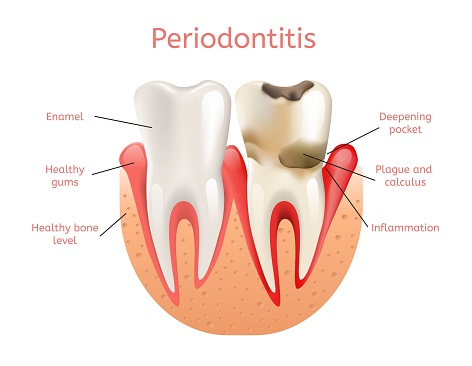 Being the first processing and filtration center for any food or drink that enters your system, your teeth and gums are perhaps one of the most overworked parts of your body. Therefore, they have to be cleaned regularly and thoroughly, failing which a host of painful dental conditions and diseases may affect your mouth, including, periodontal or gum diseases. That's the reason doctors at Grins and Giggles Family Dentistry regularly advise our patients to be diligent about their oral healthcare regimen.


What is Periodontal Disease?

Periodontal refers to the area surrounding a tooth. Periodontal disease affects the gum or the tissue embedded in the protective structure around a tooth. It's been suggested that a significant proportion of those suffering from it are unaware of it. It's primarily caused by the build-up of bacteria in the gum. Typically, it starts as a minor infection, which left unnoticed, can lead to serious infections, and eventually loss of the particular tooth.

Gingivitis is one of the most common conditions affecting the gum. One of the clearest symptoms is bad breath, irrespective of what you consume. When our dentists are able to detect it early, it can be effectively and quickly treated. When gums suffer from inflammation, leading to the growth of bacteria, periodontitis occurs. This is a condition where the infection grows and systematically weakens the gum. The gum becomes sensitive and there is visible swelling. Occasionally, there will also be bleeding. Patients suffering from gingivitis also report an unnatural taste in their mouths. When not treated, the tissue may start withdrawing from the base of the tooth, weakening its hold and eventually resulting in tooth loss.


Periodontal Care

Regular dental cleanings is the surest way to prevent gum disease. Make sure that you brush your teeth twice a day, with a paste that has fluoride in it. But there's only so much that brushing can do. You also need to floss, as it cleans parts of the mouth, especially the narrow crevices between your teeth, that your brush cannot reach. Flossing has also been found to increase blood flow to the gum. Our doctors recommend that you floss daily, as your teeth and gum face a new set of challenges with every meal or drink that you consume.

It's also wise to use a certified mouthwash to clean your mouth as it will disinfect and get rid of any bacterial growth. Brushing, flossing and rinsing with a mouthwash is the ideal oral care routine that will protect your gum and teeth. You should also avoid smoking, along with regular consumption of sugary food and drinks for the overall health of your gum and teeth.


When Should I See a Dentist?

If there's persistent bad breath or swelling in the gum, it's time to call us at (509) 928-4746. Other signs that warrant a visit to Grins and Giggles Family Dentistry include tooth sensitivity or a loose tooth. Our dentists will do a clinical examination to figure out if you have gum disease or if you are prone to it.