Porcelain Crown Spokane Valley WA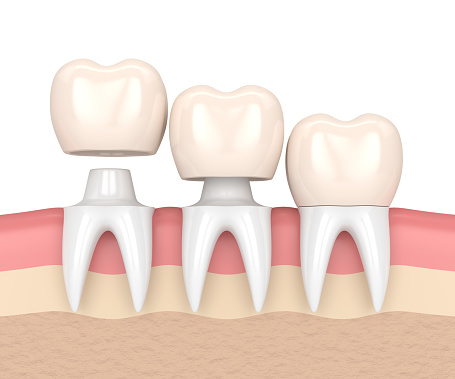 Despite being strong and dependable workhorses, our teeth can't heal or regrow by themselves. Dental crowns are appliances placed over and above teeth when they need protection, strength or restoration of their natural shape. Crowns are shaped like teeth and help individuals regain the functions and appearance of their lost teeth. It's one of the most common procedures that we have been successfully conducting at Grins and Giggles Family Dentistry on people of all ages. They are one of the most efficient ways to restore teeth that may have lost most of their functionality due to a host of reasons.


When are Crowns Needed?

Teeth need external support and care when they get damaged or decayed. When there is damage to a tooth, dental crowns are a time-tested procedure to give them back their original shape and prowess. If a tooth has cracks, a crown can help prevent further deterioration. This not only helps that particular tooth, but by taking unwanted stress from its neighbors, it helps the surrounding teeth too. Teeth that are susceptible to infection and decay can also hugely benefit from the protective cover of a dental crown.

While fitting bridges, crowns are suggested for stability. Another common instance where a dental crown is used is in the case of a tooth with an extraordinarily large filling for its size. That particular tooth would need the support of a crown as it won't be able to hold the filling by itself. The doctors at Grins and Giggles Family Dentistry have also noted that there is an increasing demand for dental crowns due to cosmetic reasons where a misshaped tooth can aesthetically bring down the overall appearance of the teeth.


Types of Crowns

Dental crowns are usually made from a host of materials, including, metal, a fusion of porcelain and metal, ceramic, resin and stainless steel. Crowns made of stainless steel are designed for temporary use while a permanent crown gets made according to the patient's teeth measurements. After an extraction, filling, cleaning or other procedures, the tooth and the socket are sensitive to infection and damage and a readymade stainless steel crown goes a long way in protecting it.

Crowns made from metals, whether it's platinum, gold, chromium or any of the alloys, have greater strength and tend to last longer than most others. An excellent reason to opt for metal crowns is that they seldom break or develop cracks. Porcelain or ceramic crowns are getting popular as they are sturdy and resemble natural teeth. For these reasons, they are the preferred option for crowns in the front teeth.


Do I Need Crowns?

If you have damaged teeth or a tooth with an infection, it's best to consult our dentists at Grins and Giggles Family Dentistry, by calling us at (509) 928-4746. If our team decides that you need a crown, we will apprise you of all the options and the necessary procedures. While the permanent crown is made in one of our specialized facilities, you will be fitted with a temporary crown that will allow you to chew without much discomfort.