Dental Exam Spokane Valley WA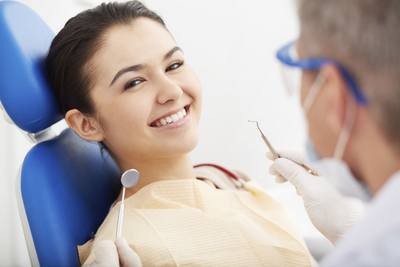 Oral hygiene can be hard to maintain on your own. Even with excellent oral hygiene habits you could still be unaware of the early signs of oral disease. Regular scheduled exams are important in preventive care and in helping slow down the progression of any occurring diseases or bone loss. We here at Grins and Giggles Family Dentistry want to share the basics of a dental exam and what benefits they have.


What to Expect

A typical exam will start with an evaluation of your oral health and discuss concerns you may have. Our dental professionals will inquire about your current oral hygiene habits and give you recommendations on what could be added or changed. This will allow us to determine what could be the cause of occurring or potential oral disease.

X-rays may be required for a more in depth look at your teeth and jaw. When we are done assessing your oral health, your teeth will be professionally cleaned and polished. This is imperative to help maintain your oral health as well as protect you from further damage. Cleaning will also determine if you have any cavities or existing gum disease. If oral infection or disease is found, our dental professionals will discuss possible solutions and preventive measures. Education is an important step of the dental exam; our dental professionals are prepared to answer questions you may have about possible procedures. So, you can leave feeling informed and secure about your oral health.


Why Dental Exams are Important

The key to regularly scheduled exams is preventive care. By catching early signs of changing oral health, including cavities, gum disease or potential tooth loss. When left untreated cavities and gum disease have been known to lead to heart attacks, strokes, and pneumonia. This is caused by layers of plaque that builds up over time turning into tartar. While plaque can be removed through regular brushing and flossing, tartar cannot. Dental exams offer professional cleaning that removes tartar and plaque protecting you from any possible health issues. Apart from preventing further possible disease, dental exams help to maintain your bright white smile. Cleaning during the exam will help get rid of staining and determine If further cosmetic treatment is needed. A few missing teeth may not seem critical, but they can cause the loss of more teeth and a weakened jawbone. Dental exams can prevent this damage or offer solutions to existing tooth loss. All this information can be confusing to understand on your own. Dental exams can help you better understand these diseases and the options available to avoid them.

Even with excellent oral hygiene habits, it is important to schedule regular exams to maintain oral health. Our dental professionals can catch the early signs of any potential diseases before they progress. These exams are a great way to educate yourself about your oral care and what options are available to you. We here at Grins and Giggles Family Dentistry value your oral health and so should you. It is an incredibly important aspect of your overall health. Please call (509) 928-4746 to schedule an exam with one of our professionals today.