Night Guards Spokane Valley WA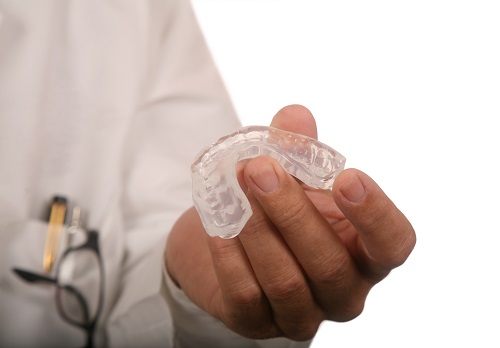 Mouthguards are dental devices designed to protect teeth from grinding or clenching when someone is asleep or while playing sports to prevent injuries by covering the teeth and gums. They can also help to relieve obstructive sleep apnea and reduce snoring. They are commonly used by people with a condition referred to as bruxism, a sleep disorder that results in teeth grinding and clenching, which can cause teeth and jaw pain. Bruxism can be treated by wearing a night guard when sleeping. Night guards work by preventing contact between teeth in the upper and lower jaw, reducing the impact when clenching your jaw, and it lightens the tension and gives cushion to muscles in the jaw.


Types of Night Guards

Soft night guards are the most commonly used to treat bruxism, used for mild or occasional cases, but they are not advisable for severe teeth grinders. Moderate to severe teeth grinders use dual laminate night guards. They can handle moderate, severe clenching and grinding and are durable since they are hard on the outside but soft on the inside. Severe teeth grinders commonly use hard night guards. They are made from acrylic and are highly rigid and durable. They are ordered directly from the dentist, as an accurate impression is required.

Boil and bite mouthguards can also be used for bruxism. These guards are made of a thermoplastic material that you can shape at home to fit your teeth. One can soften them by placing them in hot water and later fit them on the teeth by using their fingers to press them onto the teeth. When it feels in the proper position, you bite them for a few seconds to custom fit.

Stock-made or over counter mouth guards are not custom-fitted, and occasional mouth grinders commonly use them. Modifiable over-the-counter mouthguards are often pieces that you slide between your teeth when sleeping. We recommend custom fit night guards for the best treatment.


What You Need to Know About Mouthguards

One should consider mouth guards that are thin for they are comfortable and easy to adjust to. For teeth conditions such as missing and crooked teeth, a custom fitting is advised. To prevent teeth damage since teeth grinding is subconscious, the more it occurs, it causes wearing out of the enamel, which may cause oversensitivity of the teeth and tooth decay. Teeth grinding may also cause fracturing of the weak tooth and wearing down of any fillings.

Mouthguards can also treat temporomandibular joint disorder (TMJ), the joint connecting the jaw and the skull, and controls jaw motions. Grinding and clenching teeth while asleep causes pressure on these joints, which may cause temporomandibular joint disorder. This causes difficulty in chewing, pain around the ears, and headaches.

To prevent chronic headaches and neck pain that result from the temporomandibular joint disorder and tensed muscles in the neck you may benefit from a night guard.

To find out more about night guards, contact us at Grins and Giggles Family Dentistry at (509) 928-4746 today.