Veneers Spokane Valley WA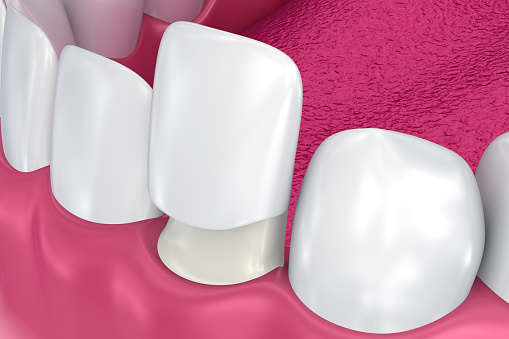 The ability to openly smile greatly affects one's confidence. A chipped tooth or stained teeth on the front of the mouth can make one conscious and withdrawn. In a world where everyone comments on everyone's photographs online, a minor flaw in one's appearance can have deep psychological effects. It can seriously help or hold back people in various circumstances, like job interviews, meetings, public speaking, romantic encounters, etc. Dental veneers can significantly improve the condition of someone's teeth and their self-esteem. Our medical staff at Grins and Giggles Family Dentistry has consistently witnessed the remarkable effects a dental service like dental veneer can have on a person's self-confidence.


What are Veneers?

Veneers are extremely thin sheets made of porcelain that are created to envelope stained or chipped teeth. To begin with, our dentists will smoothen the particular tooth so that the veneer can be fitted evenly. Sometimes, patients will have to be administered a numbing agent for this process. Then, a thin section of the enamel is removed, which is a non-reversible process. An impression of the tooth is subsequently made, and a veneer made to the exact measurements. Once fixed, veneers will transform the shape, appearance and color of the tooth immediately. They are usually created from either porcelain or composite materials of resin. The former does a better job of resembling your natural teeth.


Why are Veneers Needed?

What was once considered a permanent, irreversible problem can now be easily solved with a veneer. They can effectively rectify the cosmetic problem associated with chipped or broken teeth. When teeth get stained, from either tobacco usage, excessive consumption of coffee and wine, or from bigger dental fillings, veneers are the ideal solution. Along with their aesthetic advantages, veneers also support the core functionality of teeth. Ill-shaped teeth and unwelcome gaps between teeth can also be solved by fitting a veneer. The best way to know if a veneer would help with your specific ailment is to come in and let our team take a look.


Different Types of Veneers

Porcelain veneers, because of their color, are indistinguishable from the natural surface of the teeth. They are sturdy and tend to have considerable lifespans. An advantage of porcelain veneers is that only a small amount of enamel needs to be cleared for their fixing.

Veneers made of composite resin are created from a filling that resembles the natural color of the teeth. Although not as durable as their porcelain counterparts, these are easy to be repaired. They are also cheaper than porcelain veneers.


Should I Get Veneers?

If any of your front teeth have a pronounced chip, stain or discoloration, a veneer can easily transform your look. Also, if you have a visible gap that's been bothering you, this is the right long-term solution. Call us at (509) 928-4746 to schedule an appointment with one of our doctors at Grins and Giggles Family Dentistry, so that we will able to give a comprehensive answer to your queries. It's not a complicated or time-consuming procedure. In just a couple of visits, you could be fitted with a veneer that will not only reshape your tooth, but also provide you with the confidence to smile.